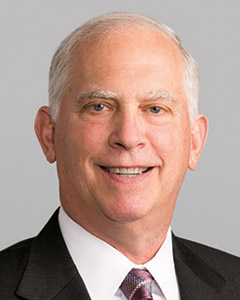 Contacts
O. 212-548-4535 / M. 202-494-4346
ssalky@lyonsandsalkylaw.com
Widely recognized as a leading litigator, Steven Salky joined Lyons and Salky as "of counsel" in order to continue practicing law while attending nursing school at the University of Maryland, where he is studying for a Clinical Nurse Leader degree. He previously practiced law for 35 years at Zuckerman Spaeder LLP, in Washington DC, where he primarily represented organizations and executives in white collar criminal investigations, securities enforcement actions, complex civil litigation, and parallel Congressional investigations.
Steve is a 1981 graduate of Yale Law School. He thereafter clerked for the Chief Judge of the District of Columbia Court of Appeals and spent two years as the Stuart Stiller Fellow at the Georgetown University School of Law, where he represented indigent criminal defendants, supervised third year law students doing the same, and taught trial skills in the Georgetown Criminal Justice Clinic. He is the author of a book on the Fifth Amendment privilege against self-incrimination and numerous articles in various journals, magazines, and newspapers, addressing matters concerning the criminal justice system. Recently, he was deeply involved in the creation and operation of the Compassionate Release Clearinghouse, an effort to ensure the representation of federal inmates throughout the country seeking compassionate release due to their medical conditions.
While practicing law at Zuckerman Spaeder, clients sought out Steve for his commitment to quietly obtaining winning results, both inside and outside the courtroom. Although he is no longer accepting cases that require him to appear as trial counsel, he continues to represent and advise executives and others in criminal investigations, civil enforcement actions, and civil litigation. He is also available to provide advice in matters where his talent for finding creative solutions to difficult problems can assist those being represented by others in the courtroom.
Steve is admitted only in the District of Columbia.